The Salvation Army Provides Aid to Families Impacted by Wildfires in Central Washington
22 July 2014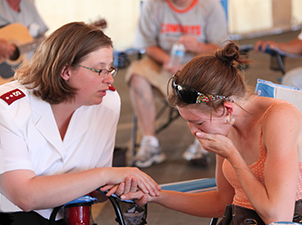 The Salvation Army Emergency Disaster Services team has been working in Central Washington and the areas devastated by the wildfires. According to The Wenatchee World, as of July 21, 243,000 acres have been burned, and 150 homes destroyed. The Salvation Army is committed to helping the families impacted – we are there to provide immediate relief now, and will stay in the area for as long as needed. We will work with the community until it is restored, which may take years.
At times of disaster, The Salvation Army often collaborates with other agencies. Together, we can help more people in more ways.
In areas near the wildfires, The Salvation Army is working with Washington Volunteer Organizations Active in Disaster (WAVOAD) and other non-profit organizations to help manage the flow of tangible donations. Most important items needed bottled water and financial donations, but clothing is also being accepted. Partner agencies are setting up and staffing storefronts in Okanogan and Chelan, where impacted families can come in and take what they need.
The Salvation Army Thrift Store in Wenatchee is collecting bottled water and donations for the families impacted. Donors can visit the store at 1219 N Wenatchee Avenue (Mon-Fri 9am – 6pm; Sat 9am – 5pm) to drop off bottled water.
In Spokane today, The Salvation Army is participating in the "Q6 Cares" organized by KHQ-TV in Spokane, WA. Donations of food, water, clothing, and money collected at the TV station on South Adams Street in Spokane (today until 6:30pm)
---
How Can You Help?
The most critical need right now is for monetary donations. There are three ways to contribute to The Salvation Army relief and restoration efforts for the Central Washington wildfires:
By Phone: 1-800-SAL-ARMY – Be sure to designate your gift for 'Central WA Wildfires'
Online: Make an online donation by clicking

HERE

- Donations received on this page are automatically designated for the centeral Washington wildfires
By Mail: Send a check, marked 'Central WA Wildfires' to The Salvation Army, Northwest Divisional Headquarters, 111 Queen Anne Avenue N #300, Seattle, WA, 98109
The best way to help during any disaster, large or small, is often to make a financial contribution. Cash donations allow disaster responders to immediately meet the specific needs of disaster survivors without incurring many of the costs associated with sorting, packing, transporting and distributing donated goods. Salvation Army disaster services are funded entirely by donors, and The Salvation Army uses 100% of all disaster donations in support of disaster relief operations.